A special feature capturing the images and highlights of the North American commemoration of the 57th anniversary of the Tibetan National Uprising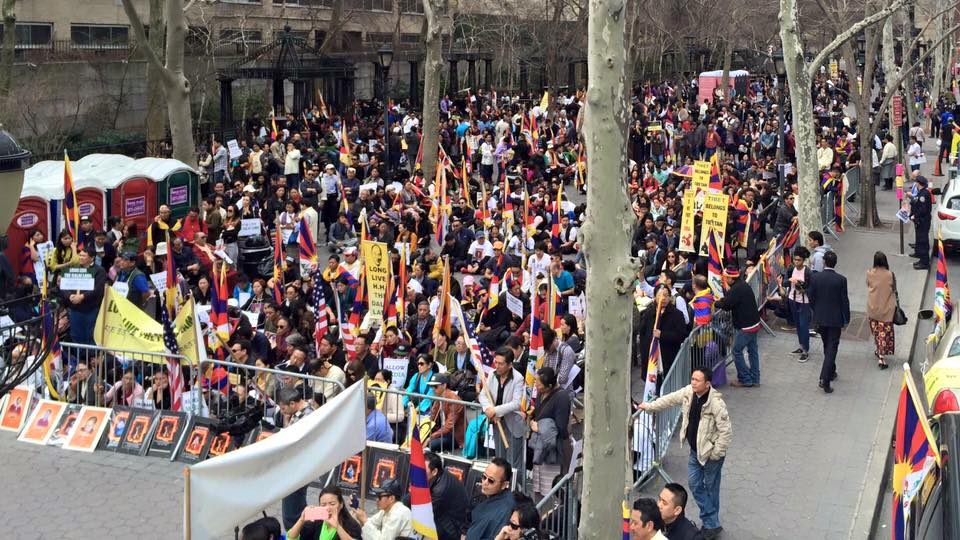 Tibetan Community of New York & New Jersey along with Regional Tibetan Youth Congress of NY&NJ, Regional Tibetan Women's Associations of NY&NJ, Dokham Chushi Gangdruk of NY&NJ, Students for a Free Tibet and U.S. Tibet Committee jointly organized the 57th anniversary of Tibetan National Uprising Day in New York City. More than a thousand Tibetans and supporters participated in the day-long event and march through the heart of New York City to pay tribute to those who have sacrificed for Tibet and to commemorate this most important political day for Tibetans.
The day began with a gathering at the Civic Center, Foley Square at 8 am. The group then marched towards the Dag Hammarskjold Plaza, United Nations, where the main program started with the singing of Tibetan national anthem and observing a one minute silence for those martyrs who have sacrificed their life for the cause of Tibet. Mr. Sonam Gyatso, President of the Tibetan Community of New York and New Jersey (TCNYNJ) gave an opening speech followed by the reading of the Kashag statement by Mr. Ngawang Yonten from Office of Tibet. Special speakers included former Kalon Lobsang Nyendak; Miling Tsui, Community Director, Human Rights in China; Professor Robert Thurman, President of Tibet House; and Chen Pokong, Chinese author, commentator and democracy activist. At the conclusion of the main program, the group marched towards the Chinese Consulate in Manhattan.
The program in front of the Chinese Consulate featured speeches by Mr. Ngawang Palden, President of RTYC NYNJ, on human rights and environment status of Tibet: Jetsun Chimey, President of RTWA NYNJ, on women's right. Dakyab Lobsang, President of Dokham Chushi Gangdruk, on religion, culture and language situation in Tibet; Pema Yoko, acting Executive Director of SFT, on going waves of self-immolation in Tibet; and Wangchuk Shakhapa of USTC on rule of law in Tibet.