A special feature capturing the images and highlights of the North American commemoration of the 57th anniversary of the Tibetan National Uprising
Tibetan Association of Boston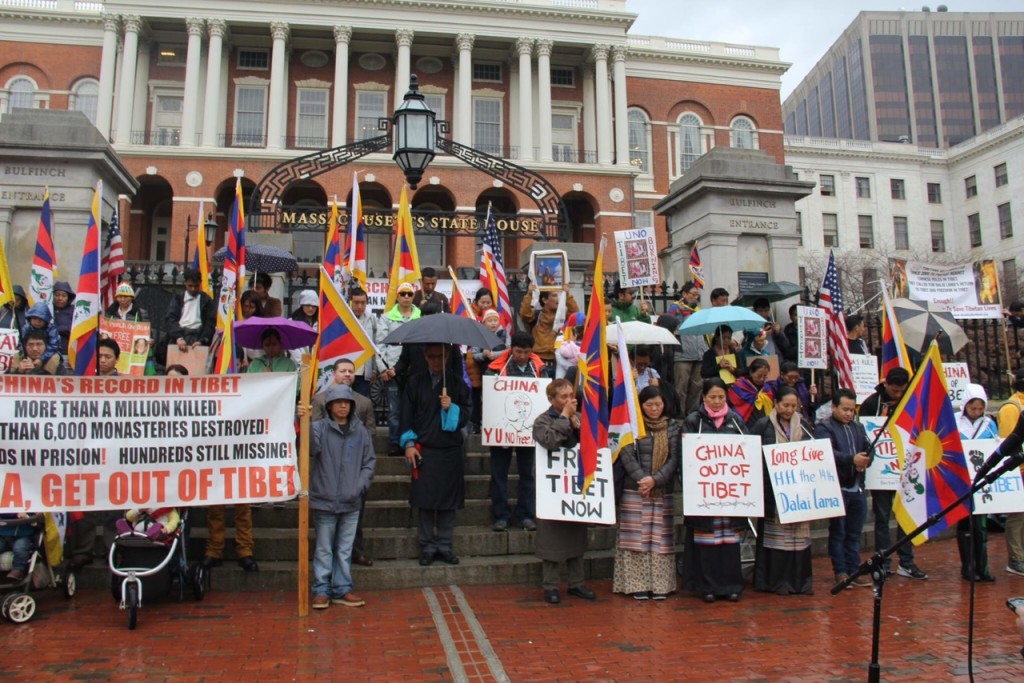 It was cold and rainy day in Boston on March 10, 2016 but more than three hundred Boston Tibetan community members braved the rough weather to commemorate the March 10th Tibetan National Uprising day. As has been the practice for many years in Boston, community members first gathered in the morning in front of Boston City Hall where the program included the raising of the Tibetan National Flag. The main program in the afternoon featured Representative Kaydor Aukatsang and other speakers addressing a large number of people on the steps leading to the front of the Massachusetts State House. After the speeches and reading of statements, the participants then held a march inside Boston Commons.
Boston Tibetan community was resourceful in garnering support. March 10, 2016 was proclaimed as Tibet Day in the state of Massachusetts. Letters of support and statements were issued from Senators Elizabeth Warren and Edward Markey and Representatives Joseph Kennedy III, Michael Capuano, Katharine Clark and Stephen F. Lynch. Attached, please find the letters and statements. The Office of Tibet is most grateful for the support and solidarity of the honorable members of Congress.
Senator Elizabeth Warren in her letter stated, "I thank the Tibetan Association of Boston for its enduring commitment to Tibetan freedom and human rights. You are an important part of vibrant community that advocates for the rich religious, cultural, and linguistics heritage of the Tibetan people and works to advance fundamental human rights for Tibetans. "
Lastly, we extend our congratulations to the Mr. Sonam Shatsang la, President of Tibetan Association of Boston, and his colleagues and members of the Tibetan community in Boston on a very successful commemoration of the 57th Anniversary of the Tibetan National Uprising Day.