October 11, 2015 – Sikyong Dr. Lobsang Sangay inaugurated the Utah Tibetan Community center The new Tibetan community hall was to be inaugurated by His Holiness the Dalai Lama initially. However, after the cancellation of His Holiness the Dalai Lama's entire program in the US, Sikyong Dr. Lobsang Sangay was requested to do the same by the Tibetan community. He was accompanied by Representative Kaydor Aukatsang.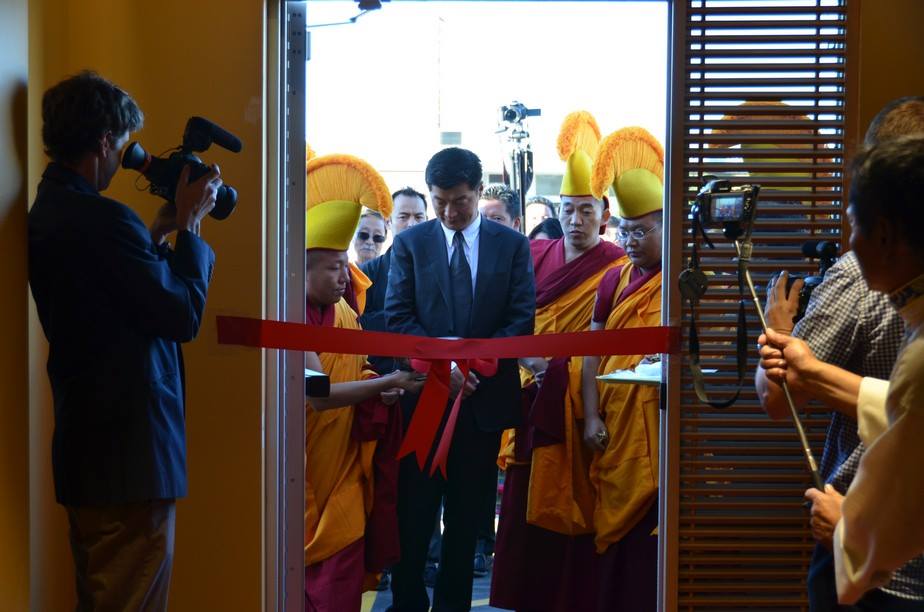 The Office of Tibet congratulates Utah Tibetan Association and its community members on a successful completion of the project. The association leaders and members volunteered many hours and worked really hard.  The project was noteworthy for involving and securing the support of various organizations and supporters in Salt Lake City including the Governor's office, various local Mayors, the Mormon Church, business community and private donors.
An excerpt from a local newspaper: (Source)
SOUTH SALT LAKE —  Renovation of the 10,000-square-foot building is underway, funded by financial and in-kind contributions from private donors, businesses, foundations, trade unions and union members as well as members of the Tibetan community.The warehouse has been gutted to its bones and it has been rewired, replumbed and reroofed. The floor plan, which includes a prayer room, classroom space, a kitchen, auditorium and office and meeting space, remain a work in progress.
It has taken the community to bring the project this far and more help will be needed to complete it in time for its scheduled dedication on Oct. 19, said Pema Chagzoetsang, former president of the Utah Tibetan Association, who is leading the project. "We are short a little but we will come through," she said. "At the end of the day, this will happen. It will be ready in time for His Holiness." Chagzoetsang along with her husband, T.J. Chagzoetsang, were the first Tibetans to resettle in Utah. "We are the true Tibetan pioneers of Utah," she says. That was some 30 years ago.