October 13, 2011 – 6:30pm – 8:30pm
Asia Society, 725 Park Avenue at 70th Street, New York City
Asia Society link http://asiasociety.org/calendars/yangzom-brauen-across-many-mountains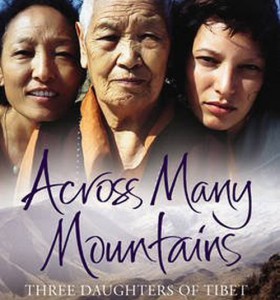 A powerful, emotional memoir, Across Many Mountains is an extraordinary portrait of three generations of Tibetan women, whose lives are forever changed when Chairman Mao's Red Army crushes Tibetan independence, sending a young mother, Kunsang, and her six-year-old daughter, Sonam, on a treacherous journey across the snowy Himalayas toward freedom. Written by Yangzom Brauen, Kunsang's granddaughter, who retells the harrowing yet inspirational story of her grandmother and mother's life in Tibet and their subsequent escape and exile. Followed by a book sale and signing.  In conversation with Paul Raushenbush, Senior Religion Editor at The Huffington Post Media Group.
Yangzom Brauen was born and raised in Bern, Switzerland. Her Swiss anthropologist father and Tibetan artist mother ignited her passion for the arts but also contributed to her appreciation and understanding of her Tibetan roots, not just from a cultural but a very deep personal perspective. Today, Yangzom lives in Los Angeles as an actress, writer and producer. She enjoys cooking for friends in her spare time, as well as immersing herself in nature. Across Many Mountains is her first book and already a best-seller in Germany.
Can't make it to this program? Tune into AsiaSociety.org/Live at 6:30 pm ET for a free live video webcast. Viewers are encouraged to submit questions to moderator@asiasociety.org.
Read an excerpt from Across Many Mountains
Shop AsiaStore for related books
Special Installation: Works by Sonam Dolma
Coinciding with the program, there will be a special installation of two works by the Tibetan artist Sonam Dolma, Yangzom's mother, on view in Asia Society's Visitor Center from October 4–16. Dolma's work derives from her experience of the complex journey that led her from Tibet to India, to New York, and to Bern, Switzerland, where she now lives and works.