InsideToronto dot com |Oct 06, 2011
Tenzin Nawang Tekan of Etobicoke was inspired to organize an Art forTibetauction here inTorontoby a similar event she attended while visitingNew York.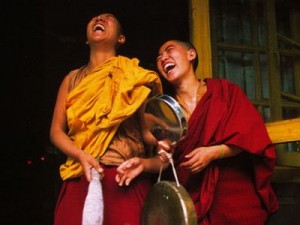 "It was great. There were lots of people there, they had live painting demonstrations and live music and wine," Tekan said. "I thought it would be great to have one inToronto, especially since we have so many Tibetans here."
Tekan, the Art For Tibet Canada Coordinator, has organized an art show which runs from today to Oct. 15 at Gallery 1313 onQueen Street Westin Parkdale and a live art action on Oct. 15 from5:30to10:30 p.m., which will feature musical performances and a live painting demonstration.
More than 20 acclaimed and emerging artists will exhibit artworks for the inaugural Art for Tibet Canada. The show features leading contemporary Tibetan and international artists, including Tenzing Rigdol, Chungpo, Ang Tsherin Sherpa, Brian Harris, UIla Djelweh and more.
"I wanted to include not only Canadian artists, but also contemporary Tibetan artists living elsewhere," Tekan said.
The art, she said, promotes Tibetan themes of exile, resistance, hope and courage.
The goal of the art show and sale is to raise awareness about and funds for Students for a Free Tibet Canada (SFT).
SFTis a non-profit global grassroots network that campaigns for Tibetan freedom and human rights and trains young Tibetan and non-Tibetan students worldwide in strategic non-violent action.
There will be online bidding for select items at www.artfortibet.com beginning Oct. 7.