By Calum Macleod| Religion News Service,
The Washington Post
Monday, November 7,4:12 PM
SERTHAR— Breathless but beaming, Sheng Zisu sounds confident after five months in a maze-like Buddhist encampment high on the eastern Tibetan plateau, nearly 400 miles from the nearest city.
"Look around. They could never find me here," Sheng, 27, said of parents so anxious about their only child's turn to Tibetan Buddhism that they have threatened to kidnap her.
Sheng is far from her home — and from the bars where she used to drink and the ex-boyfriends she says cheated on her. She is here with 2,000 other Han Chinese at the Larung Gar Buddhist Institute in Serthar, Sichuan province, the rain-soaked mountainous region of southwest China.
The province is far from the central government in Beijing, and is also a traditional gateway to Tibet, whereChina's Communist Party has suppressed Buddhists, sometimes brutally, for decades.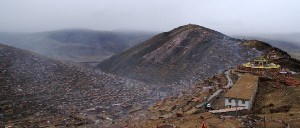 Holy chants and red-robed devotees spill down hillsides blanketed by red wooden cabins, where monks, nuns and disciples spend hours in meditation. More than 2 miles above sea level, Larung Gar is among the largest Tibetan Buddhist academies in the world, with about 10,000 mostly Tibetan students.
The academy and its rising number of converts from China's dominant ethnic group, the Han Chinese, reflect a remarkable and quiet recovery for Buddhist teachings here. Along with a building boom of new or expanded Buddhist monasteries and teaching facilities in the Ganzi Tibetan autonomous prefecture, it amounts to a reversal of some of the damage from Chairman Mao Zedong's Cultural Revolution.
Mao's efforts to strip China of capitalism and religion resulted in the destruction of hundreds of Buddhist temples and the deaths of thousands of monks. Just a decade ago, the institute survived a crackdown in which Chinese officials ordered the partial destruction of its buildings.
Mao's vision has given way to a more capitalistic and seemingly more tolerant version of communism. But Buddhism's broadening popularity here is stoking tension between Buddhist monks who demand religious freedom and their longtime foe: Communist Party leadership 1,500 miles away.
In Ganzi and neighboring Aba Prefecture, 10 Tibetans — monks, former monks and one nun — have set themselves on fire since March, mostly in recent weeks. At least five have died from their protests for religious liberty, exile groups and China's state media Xinhua say.
Through acts of defiance — from self-immolations to the destruction of Communist propaganda signs — Ganzi Tibetans are showing resentment toward their Chinese overlords and loyalty to their exiled spiritual leader, the Dalai Lama.
Talks between the two sides in recent years have gone nowhere. The Dalai Lama, the spiritual head of Tibetan Buddhism, blames the recent deaths on Chinese officials' "ruthless policy, illogical policy."Beijing accuses "the Dalai Lama clique" of fanning the flames of protest.
"These self-immolations are caused by being oppressed and denied religious rights," said Dukthen Kyi, a researcher at theTibetanCenterfor Human Rights and Democracy inDharamsala,India.