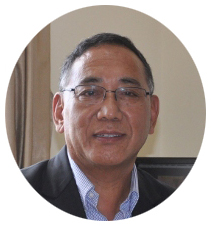 Kalon Ngodup Tsering assumed the post of Representative of His Holiness the Dalai Lama to North America on December 01, 2017. He was born on 1st July 1953 in Tibet. He is an alumnus of Punjab University, Chandigarh with a degree in Bachelor of Arts. He was also a former member of the Tibetan Parliament-in-Exile from 1979-1982.
He joined the Central Tibetan Administration (CTA) in 1983 on the post of Deputy Secretary in Department of Education and transferred to Department of Home, CTA in 1987.  He also served as the Director of the Tibetan Institute of Performing Arts (TIPA) from 1991-1995.
He was one of the recipient of the "Best Officer" award among gazetted officers of CTA in 1995, awarded by a Swiss based Tibetan Association.
In 1996, he was appointed as the Secretary of the Department of Education, CTA. In 1999, he was transferred to the Department of Home of the Central Tibetan Administration as the Home secretary.
In the year 2000, he moved to the US where he served as the President and the Director of Tibetan American Foundations of Minnesota and Tibetan Association of North California from 2001 to 2008.
He rejoined CTA as the Secretary of the Department of Education in 2012, under the 14th Kashag led by Sikyong Dr. Lobsang Sangay.
In 2014, he was appointed as Kalon of Department of Education and reappointed at the same post in 2016 and served in the department till November 30, 2017.
FORMER REPRESENTATIVES:
Penpa Tsering
(2016-2017)
Kelsang Aukatsang
(2013 – 2016)
Lobsang Nyandak Zayul
(2009 – 2013)
Tashi Wangdi
(2005 – 2008)
Ngawang Rabgyal
(1999 – 2005)
Dawa Tsering
(1996 – 1999)
Rinchen Dharlo
(1986 – 1996)
Tenzin Tethong
(1973 – 1986)
Phintso Thonden
(1966 – 1973)
Liushar Thupten Tharpa
(1963 – 1966)