When: Tuesday, June 14 · 6:30pm – 8:00pm
WHERE: Asia Society, 725 Park Ave, New York, NY
Columbia Water Center is co-sponsoring the event.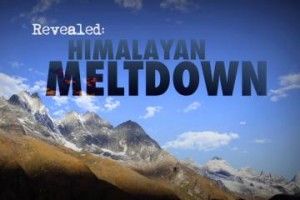 Asia Society's Center on US-China Relations will present a film and discussion called Revealed: Himalayan Meltdown. The 45-minute documentary co-produced by the United Nations Development Programme (UNDP) and Arrowhead Films, examines the shrinking glaciers of the Himalayas and the impacts on the lives and livelihoods of people in Asia. The event will include remarks by Orville Schell, Arthur Ross Director of the Center on U.S.-China Relations, and Helen Clark, UNDP Administrator and a discussion with Permanent Representatives to the United Nations from Bangladesh, Bhutan, China, India and Nepal, moderated by Ajay Chhibber, UNDP Director for Asia and the Pacific.
Asia Society Members: free; students: $5; seniors: $7, non-members: $10
See a film trailer and reserve tickets here: http://asiasociety.org/events-calendar/revealed-himalayan-meltdown